What is group ordering?
Designed to cut admin, remove cash handling and save time, Mary Glasgow group ordering allows school staff to create orders that can be promoted directly to parents to pay online for their child's Mary Glasgow Magazines subscriptions.
Group orders can be created at class, year group or even school level, allowing teachers to recommend the most suitable magazines for their students to display to parents. A simple web link can then be sent to parents to browse the magazines, subscribe and pay.
---
Step 1: Get started

Log in or register for your Scholastic account to start creating your group order.
---
Step 2: Create your group order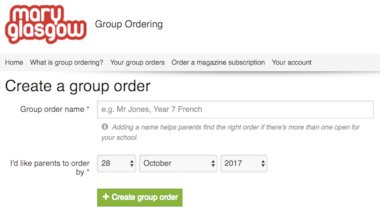 Give the group order a descriptive name, so parents will know which order to add to i.e. French, Mrs Peacock, Year 7. Then select a closing date for parents to place their magazine subscriptions.
---
Step 3: Let parents know

Tell parents that your group order is open by sending them the ordering link: www.maryglasgowplus.com/orders.
You can email or text it to them directly or put the link in a letter (find some sample email/letter text here). Just make sure to include the name of your group order so that parents can search for it easily, along with the group order closing date.
---
Step 4: Complete your order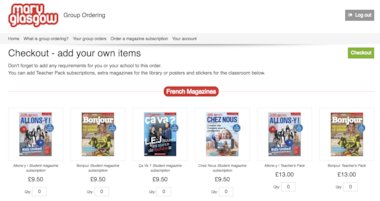 When the closing date approaches, you may need to send a reminder to parents to place their orders. Once the closing date has passed, or if you have received all of the subscriptions you were expecting, head to the checkout.
Need to order some extra magazines for your library or posters and stickers for your classroom? You can add your own items to the group order at this point, where you will need to add a billing address and make your payment online.
If you haven't added any of your own items, you can simply confirm the order. The usual freebies and offers, which you can see here, are added after the order has been placed.
---